We have opened a karate and bo-jutsu (stick art) class for kindergarten and elementary school children. From the younger children in kindergarten, we are practicing at a pace that suits your children. We hold a free trial lesson once a month. Please join us with your mom and dad too!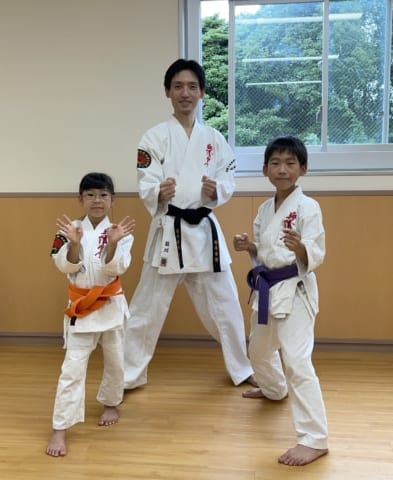 Practice date and place
Every Saturday, Mihama Community Center, Urayasu City, 9 am-10:30am
(Until 10 o'clock for kindergarten class)
(Holidays and Saturday in the 5th week are closed)
The formation of the club
I ... Club representatives have been learning karate and ryukyu kobudo for 18 years. It was fun for me to improve myself , but since I started practicing with my child 5 years ago, that fun has doubled. Originally, I like children as well as my own, so it was fun to do and teach with them. So I realized that I felt the utmost joy and reward in teaching my children karate and watching them improve little by little.
Therefore, I have decided to start a karate class for local children as the Shin-Urayasu branch of the Yogi Kaikan Kanto Headquarters. Children and representatives who love karate kobudo will create a karate circle full of fun and joy.
Club philosophy
"Fun, right and serious"
First of all, have fun. No matter what, if there is no fun there, it won't last long. The same is true for adults, so children are even more so. That's why I keep smiling when I practice at the Shin-Urayasu Family Karate Circle.
And correctly. What is correctness? In today's confused world of values, the scale of correctness also changes. However, there is "correctness" that does not change no matter how the times change. Make a proper greeting. Be filial and grateful to your parents. Do not bully or dislike people. Straighten your posture. I would like you to naturally acquire the correct shape of karate and what you should be like as a person.
At the end, seriously. Serious originally means a real sword in Japanese language. From that point on, it came to mean "working on things seriously." It's very important to have fun, but it doesn't mean to do it easily. Karate is a martial art, so if you play around with it, you may get injured. Because you practice seriously, you will improve your skills and you will be able to achieve good results in promotion examinations and competitions. Take it seriously, and the results will follow. I believe that accumulating such small success experiences along with color bands and medals will be a valuable experience for the future life of children.
Price information
Admission fee Monthly membership fee Others
Monthly membership fee
Kids class
kindergarten ¥3,000/ month
Elementary school ¥4,000/month
Cost at the time of enrollment
Admission fee
¥5,000
Sports insurance
¥800/ year
Necessary tools
Karatedo arrival
Kindergarten-elementary school lower grades:¥14,800
Upper grades of elementary school:¥16,500 (approximate, depending on height)
Fist supporter
¥3,900
Foot supporter
¥3,300
無料体験レッスン開催
無料体験レッスン開催します。お気軽にご参加ください!